In Memory
Lynda Powers (Terney)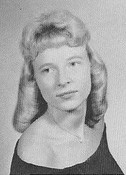 GREENVILLE - Funeral services for Lynda Powers Terney, 68, a teacher of Greenville will be at 2:30 p.m. Friday at the St. James Episcopal Church, with a visitation immediately following in the Parish Hall of St. James. She died March 30, 2010, at Delta Regional Medical Center, Greenville. Boone Funeral Home, Greenville is in charge of the funeral services.

Mrs. Terney was born on Sept. 25, 1941, in Greenville where she received her high school education. She attended the University of Southern Mississippi and while there was a member of the internationally famous Dixie Darlings. After leaving Southern, she was an airline stewardess for two years with Delta Airlines. While receiving a PHT (Putting Hubby Through) Degree from the University of Mississippi, she also earned a Bachelor of Education Degree and her teacher's license. Her knowledge and expertise (and good looks) were in demand at Ole Miss, and she was employed as the Secretary by the Mississippi Law Journal, where she assisted in production and editing of numerous articles for publication by Mississippi's now top attorneys and judges.

Upon her return to Greenville, she taught business classes at Greenville High School from 1968-1970. During the last 23 plus years, she has been a teacher at Washington County Day School.

Although her time between being a homemaker and teacher was limited, she was able to support various civic groups. She served as President of Greenville Junior Auxiliary, President of Council of Greenville Garden Clubs, Vice-president and Secretary of Cypress Hills Tennis Club, member of Board of Directors of Delta Center Stage, Greenville United Way, Washington County Ole Miss Alumni Association, Washington County Mental Health Association, Civic Improvement Committee of Greenville Chamber of Commerce, Mississippi Junior Tennis Council, Junior Greenville Garden Club, Tennis Committee of Cypress Hills Tennis Club, Tournament Director of Delta Junior Classic Tennis Tournament, Over-all Chairman of Washington School Harvest Fun Festival, Finance Chairman of Washington School Harvest Fun Festival, Founder of SADD at Washington County Day School, Sponsor for Dirt Daubers Garden Club and Sub Deb Club and Leader of a Brownie Troop. Her most prestigious honor, however, was being elected and serving as President of the National Association of Junior Auxiliaries.

She was preceded in death by her daughter, Taylor Powers Terney; her father, Hugh Powers; her step-father, George P. Ferguson; a sister-in-law, Mary Louise Terney "Totty" Bishop; and a brother-in-law, Champ Terney.

Survivors include her husband of 47 years, Philip B. Terney; her mother, Pauline Woods Ferguson; daughters, Melynda Leigh Terney Parker (Rodney) and Merideth Woods Terney Nerren (Ted); three grandsons, Philip Stephen Parker, William Terney Parker, and Edward Larwood Nerren IV; and one granddaughter, Elizabeth Grace Nerren.

Music will be furnished by organist Susan Blaine and vocalists Lillian Schultz and Andy Alexander.

Pallbearers are Ralph Owens Jr., Ken Alexander, Bill Farr, Emery Skelton, Rodney Brown and Al Ray. Honorary pallbearers are all teachers, administrators and staff of Washington County Day School.

The family requests that in lieu of flowers, memorials be sent to St. James Episcopal Church, 1026 South Washington Ave., Greenville, MS 38701 or to Washington County Day School, 1605 E. Reed Road, Greenville, MS 38703.